We have a new home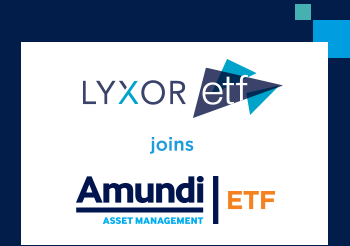 Read more
In this episode of One Step Ahead, Douglas Fambrough, Ph.D., President and CEO at Dicerna Pharmaceuticals, talks us through "RNA interference," an innovative technique that can target and silence certain disease-causing genes. From kidney-related disease to neurological disorders – and potentially even alcohol use disorder – he asserts that gene-based medicines have the potential to be a safe and effective approach to treating disease. According to Dr. Fambrough, we're at the early stages of a "big bang" for gene-based medicine, and RNAi is just one of many disruptive technologies set to change the future of healthcare.
This episode was presented by Libby Potter.
This episode contains forward-looking statements and actual results may be materially different; see "Risk Factors" under Dicerna's latest SEC filings.
Relevant ETFs
At the time of this podcast recording, Dicerna Pharmaceuticals was a holding in our SFDR 8 compliant Lyxor MSCI Disruptive Technology ESG Filtered (DR) UCITS ETF (Bloomberg ticker: UNIC).

Swiss healthcare giant Roche, with which Dicerna has partnered on an RNAi therapeutic for the treatment of the hepatitis B virus, is also a holding of our Disruptive Technology ETF.
Learn more about our Thematic ETFs

This podcast is for informational purposes only, and should not be taken as investment advice and/or an offer to buy financial products. Lyxor International Asset Management, holding the brand Lyxor ETF, does not in any way endorse or promote any companies or securities mentioned in this show. The opinions expressed at the time of recording do not necessarily reflect the views of Lyxor ETF or its parent company, Societe Generale, and may vary from time to time.